Hello, everyone! It's me, Cammie! Yesterday morning, our ice melted (yea!) and we got to go on a nice, long walk! In the rain. And mud. And splashy puddles. It was great fun. Not too many photos, though. Anyway, this morning, our skies started clearing finally and we went on a nice, long walk!
Here we are, about to head down my favorite hill to go up: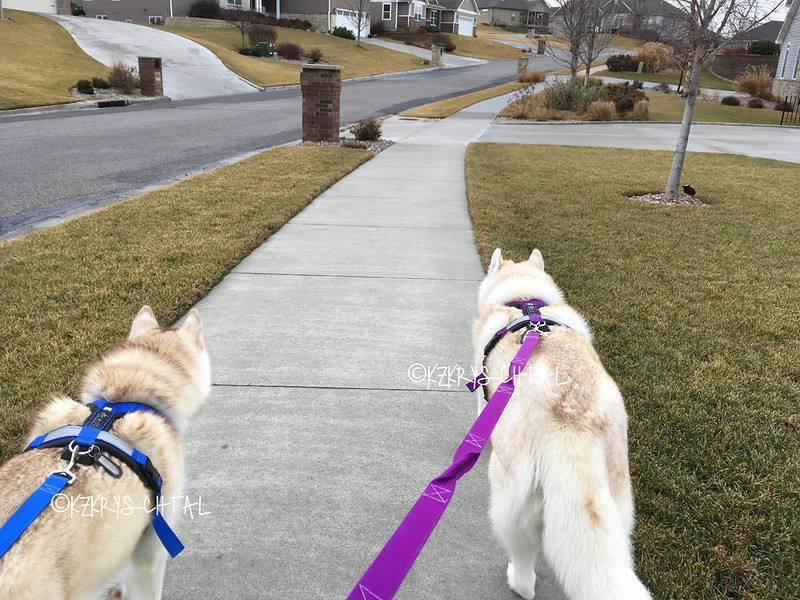 "Too bad most of the puddles are gone!"
"I know! I love stepping in puddles!"
It was nice, even without the puddles.
We saw lots of birdies! This little one was all by himself:
Eastern Bluebird
This birdie was part of a big flock that flew off before Mom could focus the camera:
European Starling
And this guy ...
"Umm... tweet?"


Eastern Fox Squirrel
... that guy wasn't really a birdie. Mom thought he was cute, though. 🙄
We saw lots of geese! Here is a small flock enjoying a swim in the Kansas Ocean:
Canada Geese
They were probably as happy about the "great thaw" as Mom!
We headed up the trail by the water tower and Maggie and I were
very patient girls
while Mom and Dad looked for more birdies.
"I hear things."

"Me, too!"
Mom and Dad saw lots of tiny Goldfinches in the brush, like these two:
American Goldfinches
It was hard for Mom to get a clear shot, as they kept going deeper into the branches!
"Look up, Mom! I see gooses over there!"

"I see gooses over this way, Mom!"
Both Maggie and I were very helpful. I saw this small flock of Canada Geese flying by:
Canada Geese
And Maggie spotted this wave of Snow Geese overhead:
Snow Geese!
Snow Geese always look like they need a good Drill Sergeant to straighten up their formation!
"I don't really see anything else ..."

"Oh, I do!"
Maggie is really good at spotting things, so we were all curious as to what she saw.
"What is it, Mags?"

"A STICK! Still connected. MIGHTY tasty!"
Mom and Dad thought we should move along after that. Me? I thought it was a good find!
We saw one more beautiful birdie on our way home - check her out:
Female Northern Cardinal
What a great walk - and a great birding spree! Thanks for coming along with us!
Cammie!