Hello, everyone! It's me, Cammie! This week, for
Serene Scenery Sunday
, I'd like to walk around the back gardens with you and show you around, OK? It's
ungodly hot
in the 90s here, so get a drink of water first, then we'll head out!
Here I am by the Bee Garden:
"This place is buzzing with activity!"
Get it? The Bee Garden? Buzzing? Moving right along ...
Here's a look at the Friendship Garden:
"I found some shade!!!"
That's our Beth Coneflower on my right - your left. It's looking pretty sad. I think it misses Beth. I was looking at our Aunt Janet Daylily. Mom forgot to take a picture of them, but this is our best year so far! (Mom started them from seeds that our aunt sent us!) We'll get a good picture later.
Moving up a bit ...
I thought I saw something moving in the rocks. You never know who's going to show up. Oh! And you can actually see some of the tiny sedum plants that Mom started! Yay!
Let's move down the hill ...
"Gotta keep my eyes peeled!"
As I said, you never know who's going to show up in our gardens! Look at our latest visitor:
Eastern Collared Lizard
Doesn't he have a magnificent tail? Mom was excited enough when she saw the Great Plains Skinks - Maggie
introduced you to them
a couple weeks ago. Now she's REALLY excited about having this guy around. He's pretty friendly and likes to pose by the Wildflower Garden. Humph. I can pose, too!
"How's this, Mom?"


"Excellent, Cam!"
"Ha! 'Excellent!' Eat your heart out, Carl the Eastern Collared Lizard ... wherever you are!"
Oh. And those are one of Mom's Cheyenne Spirit Coneflowers in that shot above. The PowWow Wild Berry Coneflowers in the Wildflower Garden are just starting to bloom - here's a look at one of those!
Coneflower
Near the Wildflower Garden, some of the Butterfly Weed is in full bloom!
"Hey, Carl! Do you ever get hot out here?"
No wonder he follows Mom around while she's watering and weeding!
I was going to pose by the Blue Sea Oat Grasses and sedums ...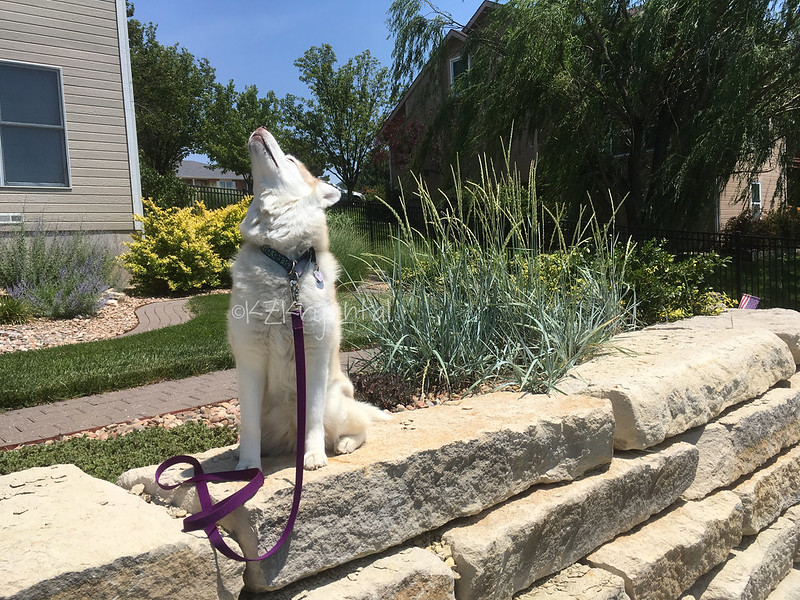 "Ooooh! Feel the breeze!!!!"
... but decided to enjoy a nice breeze instead! So peaceful! So serene!
The last thing I have for you today is our Lavender!
Blue Fragrant Lavender
Isn't it beautiful?!? And it really is so fragrant!
"Have a lovely, serene Sunday, everyone!"
Thanks for touring the back gardens with me! Now let's go back in the air-conditioned house and get a nice, cool drink of water!
Cammie!